Electric vehicle batteries
Lithuania. Charging your EV transition
Europe is projected to become a renewable energy powerhouse and the second largest market globally for electric vehicles (EVs). Thanks to robust EU regulations on CO2, strong commitment from European OEMs, and increasing local demand, sales of EVs are set to increase dramatically, reaching 7 million by 2025. To support this growth, Lithuania can offer just the right conditions to meet the growing demand for battery gigafactories that would follow sustainable manufacturing guidelines. Access to renewable energy resources, a well-developed logistics network, and a rich culture in engineering – these are just some of the ingredients for fostering sustainable manufacturing operations that Lithuania offers.
Reasons to choose Lithuania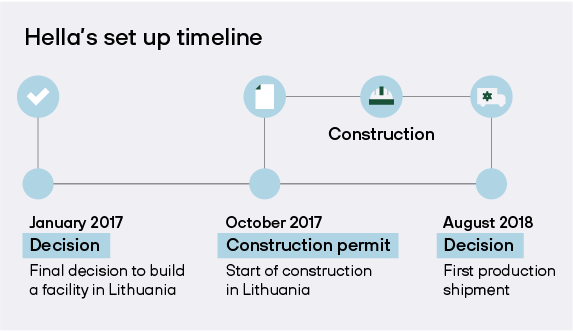 1. Fast-track entry
The Lithuanian Government is on hand and ready to offer support for larger scale projects. This includes assistance with site preparation, infrastructure, and construction permits. German automotive components manufacturer HELLA is just one of the latest in a string of international investors to benefit from Lithuania's fast-track set up processes.