This page is updated regularly. Last update: 13 December 2022
We would like to assure you that Lithuania stands firmly with Ukraine and is prepared to offer safety to Ukrainians fleeing the war. Lithuania has mobilised its national institutions and is actively seeking ways to support Ukraine.
The Embassy of the Republic of Lithuania in Ukraine in Kyiv is open.
Arrival of Ukrainians in Lithuania
At the moment, the first arrival point for most citizens of Ukraine is Poland. If you wish to come to Lithuania from there, Lithuanian volunteers can offer transportation services. Fill in the form here or call +370 677 22222 to organise transport to Lithuania for yourself and your loved ones.
Citizens of Ukraine may arrive in Lithuania on their own if they have the opportunity.
If Ukrainian nationals and their family members arrive in Lithuania from Poland as persons in need of humanitarian assistance, they should register at the Registration Centre in Alytus. Ukrainian refugees and their family members who do not have a valid travel document will be issued a foreigner's registration certificate until their legal situation is resolved. Those who do not have a place of residence will be taken to temporary accommodation.
At this stage, crossing the Ukraine-Poland border is possible under any circumstances, even without a valid visa. Moreover, Ukrainian refugees are not required to submit travel documents, health insurance and other documents required to enter Lithuania. Citizens of Ukraine holding a biometric passport may come to Lithuania and stay for up to 90 days without a visa. No action will be taken by the Migration Department if citizens of Ukraine find themselves in Lithuania after the deadline to extend their living permit or visa. Even those who have received a resolution to leave Lithuania can stay and wait for further information from the Migration Department.
Employment of Ukrainians in Lithuania
From March 1st, 2022, new legal procedures are in force, aimed at facilitating more favourable conditions for Ukrainian refugees looking to live and work in Lithuania.
Information for businesses
Lithuania stands firmly with Ukraine and its people. While the borders of Lithuania remain open to war refugees, all our institutions have mobilised to launch complex aid and support mechanisms for those fleeing the war.
COVID-19 regulations
Persons entering Lithuania are not subject to COVID-19 restrictions. Masks or respirators are not mandatory.
Find more information on COVID-19 in Lithuania here.
Where to stay? Short and long-term stays
One of Lithuania's priorities is to help those seeking asylum. Municipalities in Lithuania will offer accommodation to refugees. We'll continue updating this information here. For other options in Vilnius, check the  "Stiprūs kartu" (Strong Together) project, where volunteers offer accommodation, or look into one of the options listed below.
Short-term:
Airbnb and Booking.com are the main platforms to look for short-term accommodation. Currently, vacancy rates are high, and we have a lot of options for short-term stays.
Long-term:
You can search for flats and homes online using the following platforms: Aruodas, Domoplius, Rebaltic.
Settling in a Lithuanian city
Lithuania welcomes all Ukrainians fleeing the war. The three major Lithuanian cities – Vilnius, Kaunas, and Klaipėda – have dedicated pages with most up-to-date information on relocation, accommodation, and living practicalities relevant to Ukrainians coming to Lithuania.
Vilnius

Migration from Ukraine to Vilnius

Kaunas

Migration from Ukraine to Kaunas

Klaipėda

Migration from Ukraine to Klaipėda
Important links and contacts
Have questions? Contact us
If you are an international business looking to relocate to Lithuania, contact us with any questions: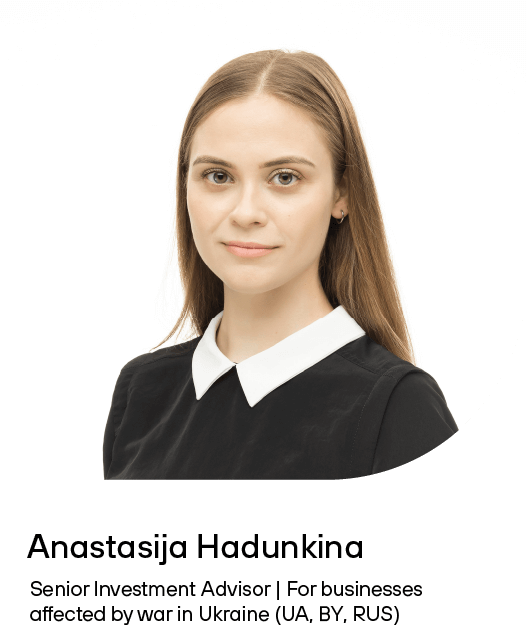 "*" indicates required fields