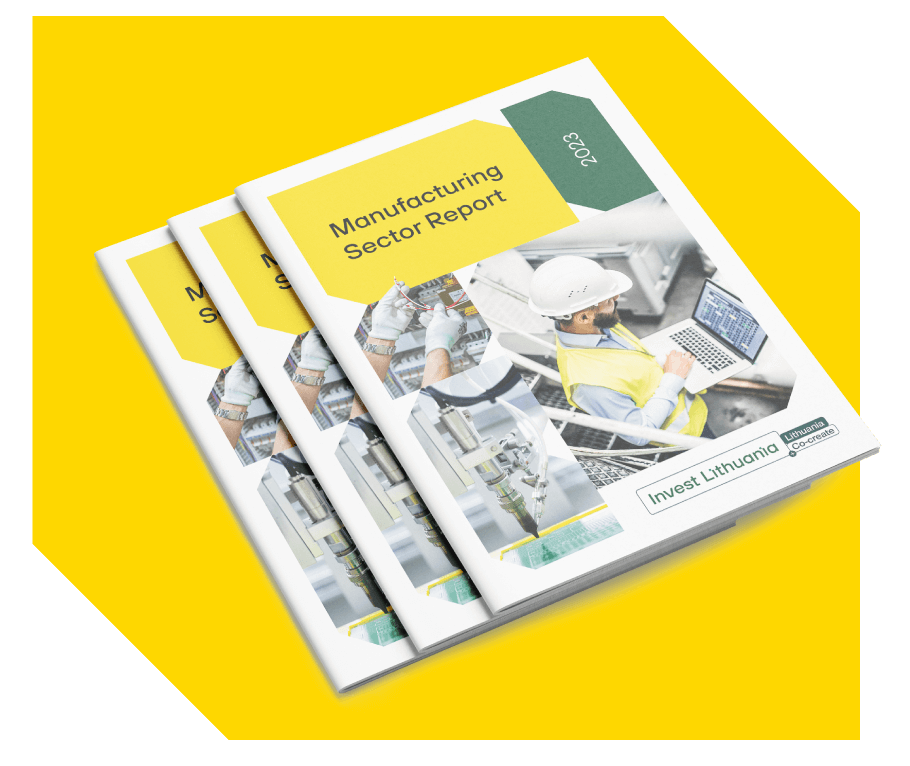 Manufacturing Sector Report 2023
We are proud to welcome you to the 4th edition of the Manufacturing Sector Report. 2022 was the year when the market was predicted to return to normal after the turbulence of the pandemic. Unfortunately, this proved to be far from the case. In this year's report, we'll delve into how geo-political tensions and economic crises impacted the manufacturing landscape in Lithuania. We'll also illustrate how, through its resilience, Lithuania's Manufacturing sector managed to withstand much of this instability, and in some areas even make impressive gains.
We hope you find this report informative and insightful, and that you will emerge from your reading with a greater sense of the achievements and potential of the country's manufacturing sector.
Manufacturing brands, present in Lithuania,
sharing their personal stories
Lithuania's manufacturing
sector at a glance
Even in the face of such market turbulence, we were happy to see that Lithuania continued to gather recognition for its performance in attracting foreign direct investment. Last year the country was rated 1st in the EU for FDI based on the Greenfield FDI Performance Index.
Nadežda Bausienė
Head of Manufacturing Sector Team at Invest Lithuania
With intensive expansion planned at Continental in Kaunas, it is critical to have strong cooperation with local educational institutions to ensure continuous talent sourcing <…>. It is our key success factor for sustainable growth here in Lithuania.
Ieva Koncevičiūtė
Head of Communications, Corporate Affairs and Talent Acquisition at Continental Autonomous Mobility Lithuania, UAB
HELLA Lithuania has already been operating in Lithuania for five years, and we have never regretted it, even for a minute. We consider Lithuania a reliable country from every perspective, and Lithuanians a nation of responsible, high-quality workers.
Maxim Zakletskiy
Managing Director of HELLA Lithuania
What sets Lithuania apart from other CEE countries? The people; their can-do attitude and the quality of service they provide.
Ramūnas Barcevičius
General Manager at Albright Lietuva