Manufacturing is a key economic sector in today's Panevėžys – largely thanks to innovative solutions that are helping the city achieve its aim of becoming a modern manufacturing hub. After visiting several companies implementing Industry 4.0, Panevėžys city development agency Panevėžys NOW shares some of their solutions that are now being integrated into global value chains.
---
Developing innovative products through handwork and latest technologies
Industry 4.0 solutions in business usually mean automation and digitisation. Nonetheless, representatives of the food and beverage industry have noted that sometimes, to meet the customers' high expectations regarding quality, it's best to do some things by hand. We sat down with Erika Tiškevičiūtė, Sales Manager at Geld Baltic, which owns the Super Garden brand, to talk about combining handwork and innovative solutions, and their strategy for becoming integrated into global value chains.
What enables the combination of handwork and innovative practices?
Our products – fruit, vegetable, meat, and dairy snacks – are made using modern freeze-drying technology, whereby the water contained in different foods is frozen, turned into a gas, and then dehydrated in a vacuum at low temperatures. With this method – which we call the "gold standard of preservation" – the nutritional value remains intact, providing large amounts of vitamins and minerals with every bite.
Although this preservation technique was created by nature itself, it took us many years to rediscover it. Since the technology was ultimately patented by NASA, both we and our customers often jokingly refer to freeze-dried products as "astronaut food" that's available to everyone. We aim to make Super Garden snacks a part of people's daily routines worldwide.
It may be hard to imagine, but even a tiny bite of a freeze-dried snack may contain a large handful of berries. Also, products made using this method have a shelf life of up to 20 years! It's only due to European food safety regulations that we specify it as 2 years. This, of course, is also affected by storage conditions – maximum freshness requires that products be kept in a cool place and away from direct sun rays. To achieve this, we use foil-insulated packaging made from recycled plastic, with additional protection against sunlight provided by the paper label. This allows us to ensure our products' exceptional shelf life and sustainability.
People visiting our production facilities are often surprised that we do quite a bit manually. This is necessary to meet the highest quality standards. Even though we use carefully selected fruits and vegetables from individual farms, only the human eye can spot the more off-colour berries once they've been freeze-dried. Those of irregular shape or colour are then used in other products. Ice cream sticks are an excellent example of this – we grind the leftover crumbs into powder and then use it in milkshakes and decorative elements. In addition, we turn over some of the less visually appealing berries to producers of honey, chocolate, and even cosmetics and organic candles.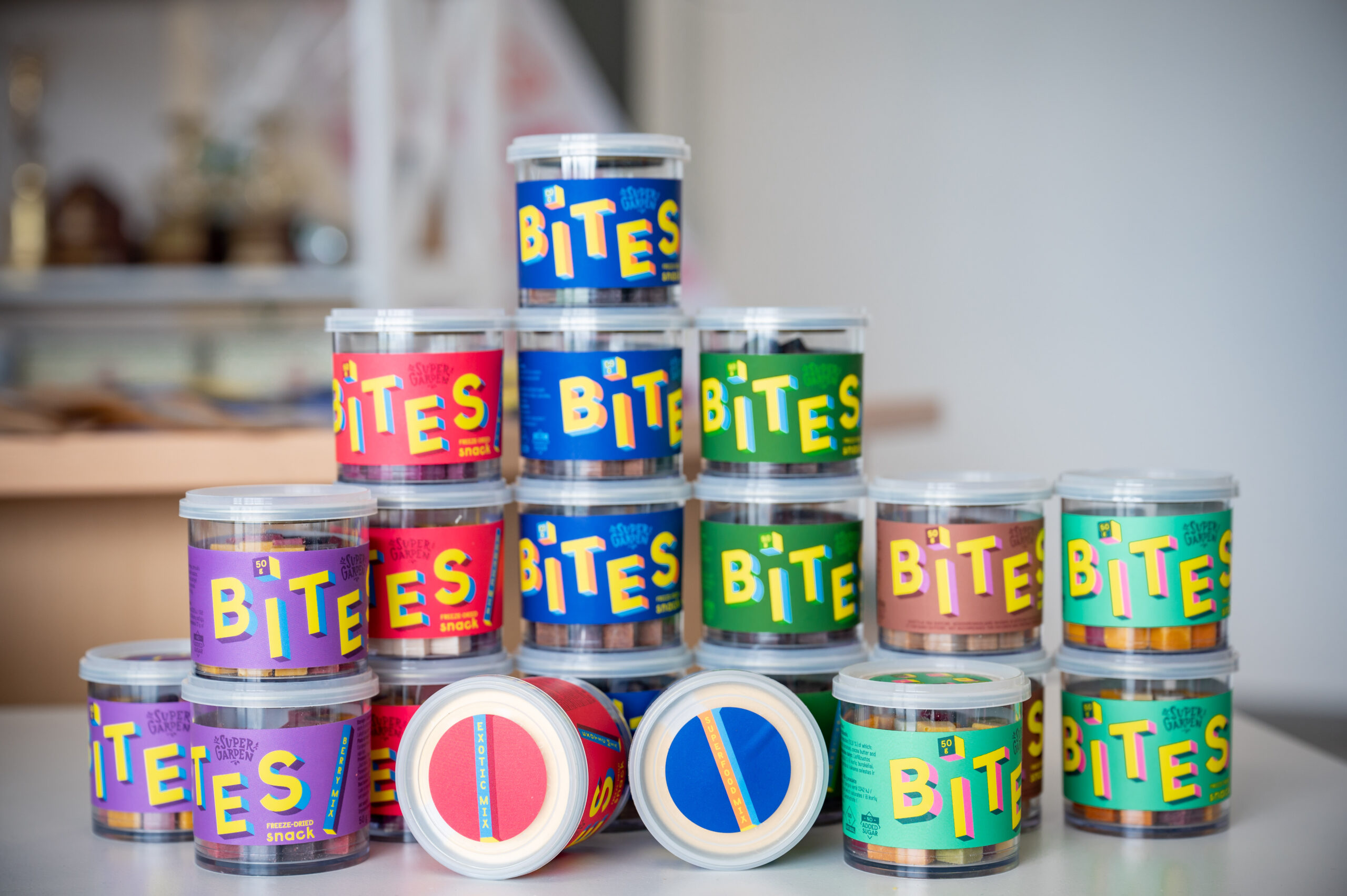 When choosing suppliers, we prioritise berries, fruits, and vegetables grown in Lithuania. We have so far signed contracts with 35 local farmers, 3 of whom are from Panevėžys: our blueberries come from a berry farm in Pažagieniai, organic black currant – from Raguva, and pumpkins – from Trakiškis.
Our products have also reintroduced the largely forgotten rowan berries, guilder rose berries, and shadbush berries. Unfortunately, the Lithuanian harvest season is short, so we also have to rely on suppliers from neighbouring countries, which allows us to meet our obligations to local chain stores and ensure rapid export growth.
Another essential part of our strategy is openness to client needs and collaboration. Being a small company, we're flexible – we can ensure mutually beneficial solutions, e.g., to producers using only certain parts of fruits or berries.
For instance, we collaborate with a Lithuanian orange grower in Spain. Although we only use the rind, instead of throwing away the leftovers, we use them as ingredients in other products that reach consumers. In addition, we've partnered with an exotic fruit shop in Vilnius to freeze-dry products that would otherwise spoil, thereby extending their shelf life. This mutually beneficial model of collaboration and reduction of food waste reflects our company's attitude towards nature.
Partnerships with other Lithuanian companies also enable us to experiment with freeze-drying new products. Working together, we've implemented quite a few exciting projects, such as freeze-drying cottage cheese bars and sparkling wine. Things don't always immediately work out, but future solutions often come from experimentation. Recently, at an industry event, we met a Lithuanian producer offering beverages enriched with digestive enzymes and looked for a solution to make it convenient to consume the product on the go. We always tell our customers: if you're missing something in our range of products, let us know, and we'll make it happen.
By taking advantage of EU support and opportunities for collaboration between science and business, we're also experimenting and developing products to meet future needs. Our work with Kaunas University of Technology Faculty of Chemical Technology has resulted in a patented, high biological-value product Bites, consisting of freeze-dried berry and vegetable powder, cocoa butter, and pea protein isolate.
To offer a gently flavoured snack, we've developed its list of ingredients together with a manufacturer of cricket-based snacks, and now have a product that uses cricket protein. Among our latest achievements is the development of a 3D food printer as part of an EU-funded experimental project. We are hoping that, in the future, it will find its way next to the coffee machine, allowing people to make these functional snacks in their homes or offices from freeze-dried ingredients.
How can a clear business strategy motivate employees?
We have a clear business strategy that specifies our current situation and goals for the next 3 or more years. Thanks to our CEO Laura Kaziukonienė, the strategy is known to the entire team. During hectic times, it reminds us about what makes the company work and what our priorities should be. Our CEO inspires and encourages us to look for unorthodox solutions and not limit ourselves to what's visible to the naked eye. Apart from production and sales, we also provide training and participate in different events and meetings that open up possibilities for collaboration.
The year 2022 marked our 6th anniversary. When developing products, we always recall our mission to encourage healthy snacking and eating and to provide foods that would make it possible. We're happy that we've managed to retain most of the employees that have been with us since day one, and we continue growing our team based on the principle of "always move forward". Our team is now six times larger than it was at the beginning, growing from 5 to 30+ people.
We also bring up our own talent by employing interns full-time and by providing career advancement opportunities to current team members. We know that, when something fails, it's crucial not to stop in one's tracks but to keep moving forward by learning from one's mistakes. Given our continuous effort to be flexible, we constantly remind ourselves of our business strategy, prioritise, distribute human resources, and seek assistance if needed. For instance, during the winter holidays, we collaborated with the Youth Day Centre – a social care establishment that provides services to people with intellectual disabilities – to help us make cardboard gift packaging.
Rising global demand for innovative products
We are successfully entering new markets, including the recently acquired export destinations – the US and Hong Kong. During the lockdown, our customers have also found us on Amazon, which is helping us make headway in the German, French, Japanese, American, and other markets.
In addition, we have a map that shows not only the countries we sell to, but also those we'd like to reach in the short-term future. Taking part in the Expo 2020 in Dubai was highly important to us, and some customers who stopped by our stall claimed it was among the best. It helped us showcase our products as healthy and innovative snacks with a short ingredient list. Responding to the great interest displayed at the Expo, we're considering opening a new production facility in the UAE.
We're happy that companies and institutions representing the country often choose our products as business gifts. For example, we've collaborated on this basis with Invest Lithuania, an institution tasked with attracting foreign investment. During negotiations over expansion into new markets, we've seen a lot of interest in our products, which inspires us to continue developing innovative products and growing as a business.
The series of articles "Industry 4.0 Solutions in Panevėžys" was prepared as part of the project "Connecting Panevėžys: Improved Business Environment through Better Collaboration", funded by the Panevėžys City Municipality.